Diamond core drilling is a method of making a hole by removing a cylinder (or "core") of concrete from a concrete beam, slab or wall. Hollow drill bits with diamond crowns mounted on specially designed drill rigs are used. Pressurised water is used as a coolant and to flush away drill debris from the drilling interfaces so that the diamond bits remain sharp and advance rapidly.
Diamond drill bits will core out holes in concrete with rebar, concrete with wire mesh, concrete without reinforcement, concrete slab, concrete pipe, ceramic, porcelain and stone tiles. Holes can be completed in almost any thickness of reinforced concrete and every diameter, from 500 mm down to 6 mm.
Alternative methods of creating holes and in concrete are precasting and jackhammering. Precast formworks are potentially hazardous obstructions, while jack hammers are imprecise, destructive, noisy and dusty. On the other hand, diamond drilling is safe, controlled and fast. Because diamond drilling is non-percussive, vibration and noise levels are greatly reduced. Dust levels are also much reduced because diamond drilling is a wet process.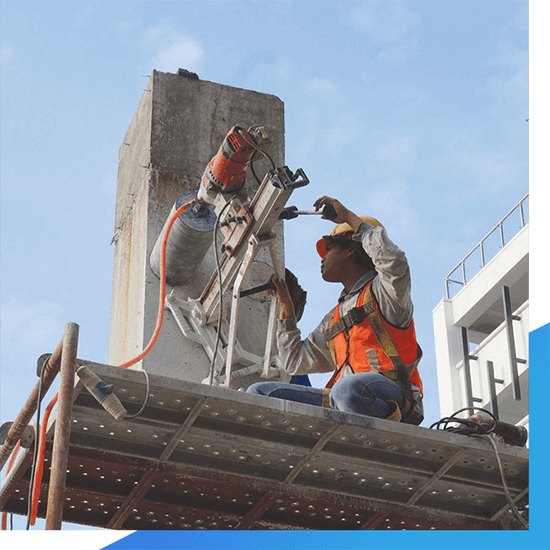 Blind Holes
These are small diameter holes of between 12 and 50 mm in diameter that are drilled artway. They are usually for anchor bolts and rebar dowels. For these applications, diamond drilling gives placement accuracy and hole straightness both of which are crucial for safety-critical anchors.

Through-holes
These holes are typically for fire protection, plumbing, electrical, heating and ventilation services. The holes can be drilled in horizontal or vertical direction, including overhead, and may be drilled straight or at an angle. Holes can be drilled up to 2 meter depths with the use of extension shafts connected to the drill bit.

Openings
Large circular or rectangular openings can be made in concrete floors, walls and offits by "stitch drilling", the process of drilling a series of overlapping holes to create openings of any shape, size or depth of the openings. Openings may be for staircases, elevators, plumbing and electrical risers, etc. Stitch drilling is also used in demolition work.
Drilling is often challenging. Tenn Holdings has drilled thousands of holes and we have the knowledge and equipment to get your job done quickly, whether you need one hole or 10,000 holes. We can drill holes in horizontal, vertical, and overhead locations using electric or hydraulic drills.