Drill & Install
Starter Bar with Epoxy
Post-Installed Rebar Setting
Concrete is strong in compression but weak in tension. Reinforced concrete (RC) is concrete in which steel reinforcement bars (rebars) are added to increase its tensile strength (bending strength). The rebars are embedded in such a way that the concrete and steel function as one unit, with the concrete providing RC's compressive strength and the steel reinforcing bars providing tensile strength. When this happens, we have "composite action".
A strong bond between concrete and steel is required for the two materials to work together as one. Without adequate bonding a concrete beam, for example, would be as strong as if it were made of concrete without reinforcement.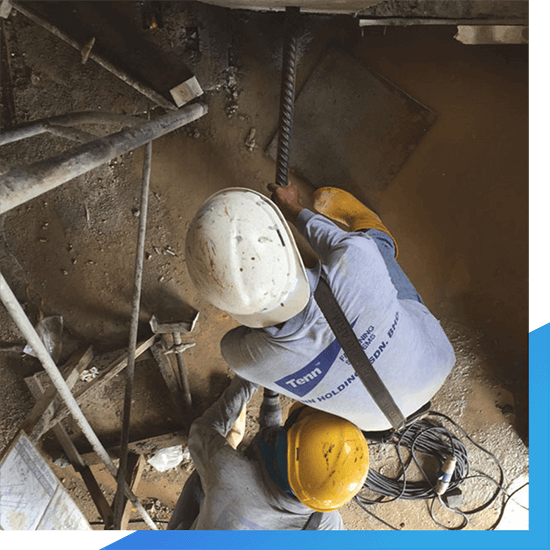 Rebar embedments fall into two categories depending on when they are installed: cast-in-place and post-installed.
"Cast-in-place" bars are rebars positioned in the formwork before the concrete is cast.
"Post-installed" bars are are rebars inserted in holes drilled in hardened concrete and bonded to the concrete with a polymer adhesive compound. They are used as "dowels," or starterbars, where concrete structures need strengthening or stiffening in order to increase the concrete's ultimate flexural or shear capacity, to control deflections and cracking as well as to improve earthquake resistance. They also needed where cast-in-place bars are mis-aligned or or left out.

Structural upgrading of columns, slabs, or beams

Vertical connections, including new columns or piers, pile caps, or adding reinforcement for structural enhancement of vertical elements

Structural connections to existing reinforced concrete walls or columns, including staircases, corbels, and cantilever connections such as balconies, access platforms and landings

Concrete overlays, including bridge deck renovation.
The reliability of post-installed rebars depends on proper installation. Drilling with close edge distances, cleaning of the holes and placement of large quantities of bonding material in deep holes without creating air bubbles require special training and equipment. This places particular demands on the training and capability of the installation personnel.
Rebar installation also needs to be on schedule. Tenn Holdings is committed to timely completion of your projects. We have the resources to undertake the most complex projects and have the best post-installed rebar setting team in the business. Let our team be your team.